Our Products
We offer all types of fencing such as sports, boundary, timber and security fencing, including matching swing or automatic gates.
---
---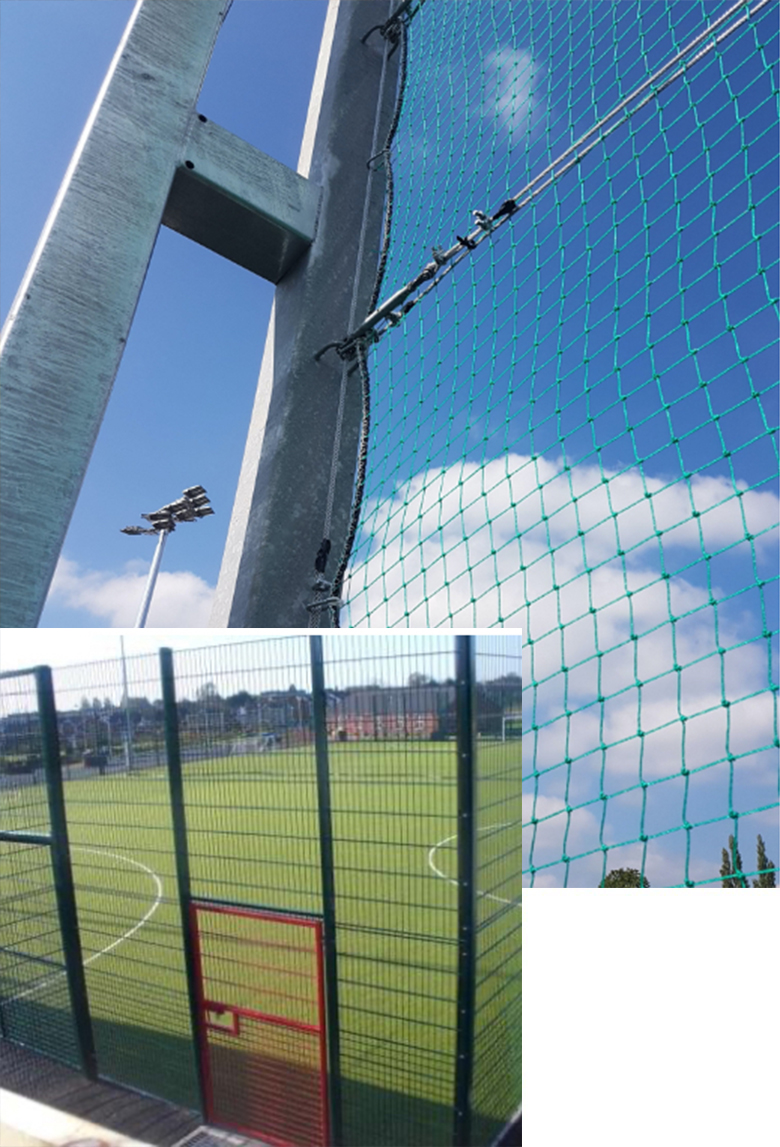 WHO WE ARE
10+ year's Experience.
---
Linton Fencing & Sportsgrounds Ltd, based just outside Moira, Northern Ireland, are an experienced fencing contractor with completed contracts throughout the UK and Ireland.
A Fencing Contractor You Can Rely On
---
Located just outside of Moira, Northern Ireland, Linton Fencing and Sportsgrounds Ltd is an experienced fencing contractor that serves across the UK and Ireland. In the past, we have worked closely with some of the most noted names across the industry from supply through to installation to ensure consistent, quality projects. Having previously completed projects in Cardiff, Dublin and Belfast to name just a few - no job is too big or small for us when it comes to fencing, netting, security and sporting solutions.
Throughout our time in the industry, we have curated an extensive product range to include all types of systems - from spectator stands to dugouts, turnstiles to netting and more. Whether it be for sports clubs, businesses or residential properties - we are confident that we can meet your requirements and exceed your expectations.
Here's a quick snapshot of the many services we offer:
If you're looking for robust spectator stands, we supply a wide range of options to suit different needs, with rapid installation and all civil work included as part of the package.
From spectator rails, MUGA enclosures, chain link fencing for tennis courts and everything in between - we have a range of sports fencing to compliment every type of sport. Popular amongst many of our sports club clients, we can keep your players, spectators and equipment safe through our sturdy and reliable fencing solutions.
With our perimeter fencing, we can help seclude and safeguard your property by surrounding it with a protective boundary with ranging levels of security to reduce the risk of threats.
Our turnstile huts offer ultimate access control for your site or event, providing a simple yet effective solution to boost your security measures.
With SR1, SR2, SR3 and LPCB rated fencing systems, you can trust our high security fencing to keep your property safe and secure at all times.
If keeping a site restricted and safe is a priority for you, then we have a variety of quality netting options available for all types of uses and organisations: from ball stop fencing for your sports club, to litter netting for councils.
If you want to give your pitch a professional look while protecting managers and players, we offer either 8 or 10 seat ready-to-go or bespoke dugouts and shelter solutions. Made using galvanised mild steel and 3mm-5mm clear polycarbonate, we can guarantee durability, visibility and an aesthetically pleasing addition to your outdoor sports facility.
At Linton Fencing and Sportsgrounds Ltd, we pride ourselves on our quality workmanship, transparent communication, professional certification and our dedication to health and safety. With these being our core values, you can trust that we will give you expert services from consultation right through to installation. Get in touch with us today to find out more about how we can help.
If you wish to keep up-to-date with our most recent work, follow us on social media for more information.